STORIES OF OUR LAND: PHOTOGRAPHY & DANCE WORKSHOP IN DONOUSA ISLAND | OCTOBER 2021
Stories of our Land: a Creative Photography and Contemporary Dance Workshop, for children between the ages of 8 and 14, that was held from 2020 to 2022, drawing on their imagination and the stories, myths and legends that inhabit the Aegean Sea and their hearts.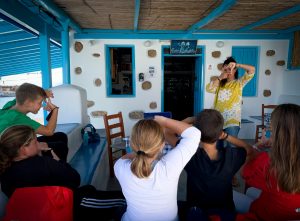 The second stop of our journey was the island of Donousa, where we came in contact with the immediacy and spontaneity of its inhabitants.
The essence of our seminar was shared with the local community and visitors in a site-specific performance at the central church of Stavros, where photography, dance and history came together to take each attendee on a journey. The inspiration for the visual installation of the photographs on the island of Donousa was the character of the island, its simplicity and the white of the Cycladic laundry; we learned to talk about people without seeing them and to talk about things without showing them.
You can now find all the material on our WEBSITE.
Above is the video of the in-situ installation and the kids' performance.